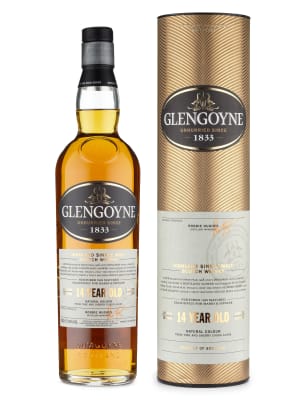 Review No.256. Glengoyne 14 Year Old
I have almost reviewed the Glengoyne core range and have found their bottlings to be quite decent.  I have not come across a malt I do not like and I also find that their whiskies have a nice malty quality to them which to me shows that they take care in maturation and the casks they choose.  Glengoyne are known to not peat their malt and rather focus on sherry cask influence instead.  This 14 year old bottling is an exclusive bottling for Marks & Spencer and has been sold by them over the past 8 years as far as I am aware.  You can get this for about £40 and sometimes for £35 when on offer.
Whisky: Glengoyne 14 Year Old Single Malt Scotch Whisky, 40% (Marks and Spencer exclusive bottling)
Nose: Juniper, floral, apple, butterscotch, mango, mixed berries, oak resin
Taste: Malt, juniper, berries, wood sap, chocolate, walnuts, bitter oak tannin
Finish: Medium dry, roasted nuts, bitter oak tannin
Score: 2.75
Summary: There is a nice balance here between the spirit and the cask.  What struck me is how light the cask influence is on this one because I can taste of lot of the Glengoyne new make character in this one with those gin like juniper and floral notes.  I would have put my money on this being matured in refill cask but I have read that first fill casks have been used in part.  The oak influence is notable to me too and it comes in the form of resin and wood sap with a touch of tannin.  This comes in towards the end and doesn't completely ruin it for me but it is not something I am keen on.  This is an interesting malt because of the new make characteristics I can pick up but I would have preferred this at a slightly higher strength and bit more sherry influence.   Not bad for a 14 year old malt at £40.
Scoring scale: My scores reflect a balance of the overall experience, availability and cost for a whisky,
1 – not to my preference
2 – tastes fine but does not excite me
3 – more to my liking and would revisit occasionally
4 – very much to my liking and would consider as a regular feature on my whisky shelf
5 – permanent feature on my whisky shelf
Image source: www.marksandspencer.com